Trabzonspor's presidential election (6 December 2015 - Patrick Keddie)
Thousands of members prepare to vote for Trabzonspor's club president in the city's basketball arena.
Most clubs in Turkey are member-based associations, which elect a club president every two or three years.
The Black Sea port of Trabzon is known for its hazelnuts, tobacco and tea, but is now most famous for its storied football team.
Trabzonspor has been the only Anatolian club to consistently challenge the Istanbul footballing elite over the past few decades.
Trabzonspor also has great political significance because it is the biggest institution, employer and symbol of the city – and the city represents a key Black Sea voting bloc.
Becoming president of a football club in Turkey is like winning a golden ticket - all kinds of doors open. You can make connections with big business, banks, and the government. "Being president of Trabzonspor is like being president of Trabzon," one member told me.
This election was the biggest in the club's history. Trabzonspor was in dire financial straits, attendances had plummeted, and the club was sliding down the table towards the relegation zone.
One local journalist and member said that, if the wrong candidate was elected, the club could fail: "It's 'to be or not to be'".
'Ghana' in training (May 2016 - Patrick Keddie)
Players from the 'Ghana' team train in the Istanbul neighbourhood of Ferikoy ahead of a crunch match in Istanbul's 'African Nations' tournament.
African footballers have come to Turkey in ever-greater numbers over the past decade – particularly from countries such as Ghana, Nigeria, Cameroon, and Sierra Leone.
Football is seen by many as a feasible way out of poverty. It is relatively easy to get a visa for Turkey, there are scores of clubs, and Turkey can be a stepping stone to Europe. But many players are lured to Turkey under false pretences by fake or unscrupulous agents.
The African Nations tournament was set up just over a decade ago; partly for fun and friendship, but it became increasingly geared towards helping African players find clubs by impressing the many scouts and agents in attendance.
The tournament has grown from four teams to 16.
There is a lot of pressure on the players. Many families used their life savings, sold possessions, or racked up severe debt to send their sons to Turkey and they are expecting a return. Few players have a Plan B if football doesn't work out. Going home empty-handed is not an option.
Choreography at the Turk Telecom Arena (18 February 2016 - Patrick Keddie)
The man depicted in the choreography had become a cult figure for his pride, fervour and humility for stitching a fourth star onto his old jacket (each team gets a star above its club badge after winning five league titles. In the previous season Galatasaray had won their 20th league championship).
The gatekeepers of Turkish football (as in all big European leagues) are in thrall to a corporate 'industrial' vision of the sport; deploying heavy-handed sponsorship and invocations to consume; attempting to gentrify and control expressions of fandom - particularly those that threaten profit; and imposing costly, ever-rising prices on merchandise, tickets, and television subscriptions.
But, while many Turkish supporters may resist being viewed as 'consumers' rather than fans, they are also often conflicted over consumerism; many see it as their duty to buy merchandise to financially support their (often heavily indebted) clubs.
This match was against Lazio in the Europa League. It was set to be Galatasaray's last home match in European football for some time as they were subsequently banned from European competitions by UEFA for a season for breaching Financial Fair Play rules.
'The first game at Besiktas's new stadium' (11 April 2016 - Patrick Keddie)
Inonu Stadium was demolished in 2013 and Besiktas were forced to play in exile while their new stadium was being built on the same site, opposite Dolmabahce Palace, next to the Bosphorus.
The construction was repeatedly delayed, often technically ascribed to minor infringements of planning permission and laws never normally applied in Turkey. Many believed the real reason to be political: many Besiktas fans had been a voluble presence during the 2013 anti-government Gezi protests, and some believed the government was in no hurry to have a new stadium in such a sensitive spot until the 'Gezi spirit' could be quelled.
But as the 2015/16 season unfolded, and it looked like Besiktas might win the league for the first time since 2009, the urgency to open their new stadium before the end of the season became palpable, and a date was set for April.
The stadium's opening match was against bitter rivals Bursaspor – the district became an occupation of black and white. Ferries and buses constantly disgorged bouncing, chanting supporters.
For the first time in nearly three years Besiktas fans had resurrected their traditions and marched to the stadium.
'It was kind of like a very loving feeling, like coming back home,' said one fan. 'And we waited a long time.'
'The Recep Tayyip Erdogan Stadium, Kasimpasa' (27 October 2017 - Patrick Keddie)
Kasimpasa's stadium sits snugly beneath a hill in central Istanbul, a short walk from the main shopping thoroughfare of Istiklal.
Kasimpasa is a tough, conservative neighbourhood and its stadium is named after the district's most famous son: President Erdogan.
Erdogan was a semi-professional player in his youth. He captained IETT Spor - the football team of Istanbul's electric tram and funicular company – which won the Istanbul Amateur One League in 1976/77.
Erdogan's nickname was apparently 'Imam Beckenbauer', a reference both to his piety and his supposed skills; like the German libero Franz Beckenbauer, Erdogan was tall and rangy – hagiographers have painted him as a similarly elegant, talented, and dominant leader on the pitch.
The (much disputed) myth goes that Erdogan was twice made offers to sign for Fenerbahce.
Erdogan's detractors tend to portray his footballing style more in the vein of a Vinnie Jones-type figure, a blunt and unrefined hardman.
Football became part of Erdogan's mythology as both man of the people and natural-born leader; a shortcut to people's hearts and an easily understood language in a football-mad country.

The Adana derby (20 March 2016 - Patrick Keddie)
Adanaspor fans gather outside the stadium before a match against their much-loathed local rivals Adana Demirspor.
The Adana derby is one of the spiciest rivalries in Turkish football, but it will soon be taken to the city's periphery.
Following a general pattern in Turkish football, Adana's new stadium will be built far outside the city centre, while their old stadium will be demolished and likely replaced by a shopping mall.
Fans worry that the sense of community and atmosphere will be lost when matches are taken to the margins of the city. Beyond commercial concerns, perhaps this is what the authorities want.
"They think that fans are dangerous for the city so they decided to move them," said Adanaspor fan Ferhat.
Malatya Women's Sports Club (November 2016 - Patrick Keddie)
Malatya is in the largely poor, conservative eastern interior of Anatolia.
Young girls from poorer neighbourhoods in Malatya often drop out of school at 14 or 15, work in apricot processing and packing factories until they have enough for a dowry, and get married young.
They start having kids: families of nine or ten children are not uncommon, and before long the lives of their daughters resemble theirs. Domestic violence is common, as is drug abuse.
But some girls in Malatya have found a way to break this cycle - though football.
The best view at Vefa Stadium (24 January 2016 - Patrick Keddie)
A freezing winter's day. The sun had no power, everything was shot through with bitter air. I walked past sections of ancient city walls to get to the snug little Vefa Stadium (home to Fatih Karagumruk and Vefaspor). Little piles of snow had been scraped off the synthetic Subbuteo-like pitch.
The stadium is within the old premises of the Aetius Cistern built in the 5th century, during the reign of the Byzantine Emperor Theodosius II.
The artist Emre Zeytinoglu writes that the cistern's ground rose as silt was deposited by brooks, and it was used as a vegetable plantation in the Ottoman era. Fatih Karagumruk was founded in 1926 and the team used the area as a football pitch. Vefa Sports Club bought the pitch in 1940, it was made into 'Vefa Stadium'.
The cistern walls around the stadium are still preserved. This charming historic stadium makes a nice change from the new big round bowls popping up all over Turkey.
The best views of the match are from the apartment blocks that line one length of the pitch.
When the third tier match between Fatih Karagumruk vs Ankaragucu kicked off, dozens of people were hanging out of the windows and cheering for Fatih. When the large stand (out of the shot) demanded to share a chant, the apartment dwellers obliged en-masse; roaring in one voice.
'The rebel referee - Halil Ibrahim Dincdag' (20 October 2015 - Patrick Keddie
Halil Ibrahim Dincdag started refereeing in 1995. He realised he was gay by the time he'd started secondary school, although he kept his sexuality secret. Trabzon, where Dincdag grew up in the 1980s and 1990s, is a conservative city: "In those years, if you'd revealed you were gay, people would force you out of the city or kill you." His sexuality would later shock the nation.
After 14 years in the Trabzon amateur leagues, Dincdag still harboured dreams of becoming a professional referee, although his hopes were fading with time. Nevertheless, he was content in his life.
He loved refereeing and his job as a presenter on a sports radio station. He didn't have a partner, but he had a couple of gay friends and they would meet and talk freely. His family were not aware of his sexuality and would never have guessed.
Life was neatly compartmentalised. But in 2008 he was called up for mandatory military service. The military, football and his sexuality collided, and Dincdag's life was pitched upside down.
The remains of Alsancak Stadium, Izmir (October 2015 - Patrick Keddie)
Football has been played on the site of Alsancak Stadium since at least 1910, when a local Greek team Panionios owned the land.
In 1959 Alsancak Stadium hosted the first ever game in Turkey's national league, between Izmirspor and Beykoz 1908. The authorities, however, had been talking about demolishing the stadium for years as it was not deemed earthquake-proof.
The supporters feared that the government would follow a recent template and capitalise on Alsancak's prime location. Under the AKP, old stadiums, traditionally built in the centre of cities, have typically been demolished or slated for destruction, and new arenas have been built far outside city centres. The sites of the old stadiums are often given over to shopping malls.
A struggle over the stadium became a battle between the government's ambition and dissenting fans who wanted to protect the stadium and its location, and honour its cosmopolitan heritage.
The threatened demolition of Alsancak Stadium had a remarkable impact on football fans in Izmir. Supporters of several Izmir teams set aside their bitter rivalries and came together in 2012 to form Turkey's first football supporters' network: Taraftar Haklari.
Despite an unprecedented protest movement the stadium was officially condemned for destruction in August 2014.
The demolition of the stadium began abruptly a year later, just days before the start of the new season in August 2015, leaving the teams of Alsancak Stadium homeless.
But while Alsancak Stadium had been demolished, the battle to save the site for football was not over.
The title in sight (8 May 2016 - Patrick Keddie)
"I saw you on a rainy day/ You were wearing your striped jersey" begins one Beşiktaş song:
"I was stricken that moment, I fell in love
The meaning of life was black and white
The line that separates death from life
Cannot separate black from white
Even if all roads end in death
No one can come between lovers."
On this evening Besiktas edged-out Galatasaray 1-0 and took a step closer to securing their first league title since 2009 - sparking a massive impromptu street party that rocked the district.
The Black Stockings (1901 - Courtesy of Iskender Baydar)
Although unconfirmed, this is likely a photo of the Black Stockings - the first entirely Turkish-Muslim team.
They were taking a risk by playing football.
Muslims were effectively banned from playing the sport under the autocratic Sultan Abdul Hamid II.
Some Muslims believed that shorts violated Islamic morals, and some associated the sport with the killing of Husayn Ibn Ali, the grandson of the Prophet Mohammed, whose decapitated head was kicked around like a football. Others simply found running around after an inflated object to be preposterous and worthy of contempt.
But there was also an element of political fear among the Ottoman authorities during a time of repression: that football could be difficult to control. The sultan feared an uprising or a coup, he didn't want people to come together, not even for the strange custom of chasing a ball around a muddy field.
The Black Stockings trained in secret and then played their first match against a local Greek team on 8 November, 1901. The Black Stockings were beaten 5-1.
Detectives ran onto the pitch after the match and detained most of the players.
The Black Stockings were forced to fold after one match.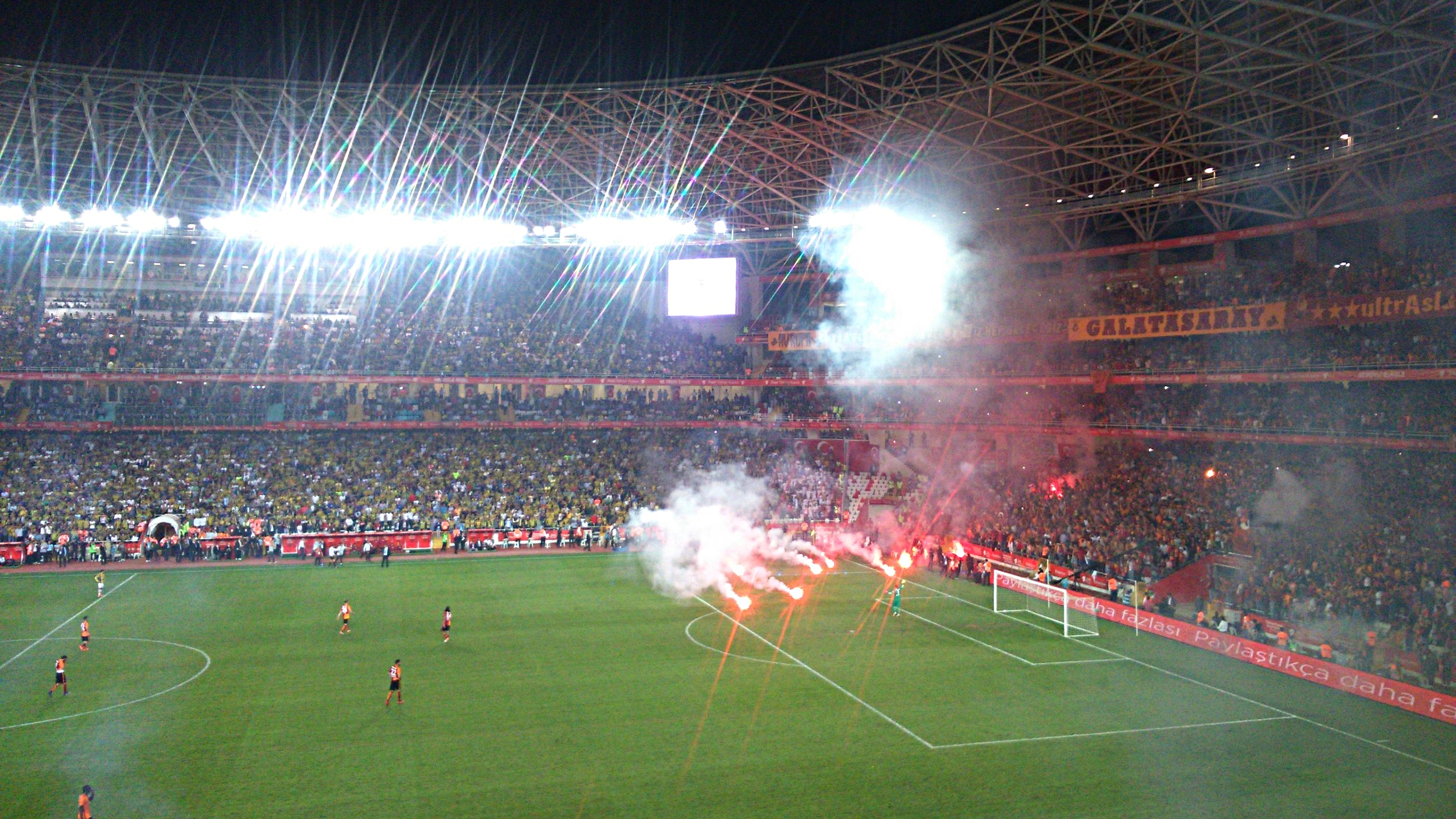 Turkish Cup Final, Galatasaray vs Fenerbahce, Antalya (26 May 2016 - Patrick Keddie)
Antalya's stadium is a classic AKP-era arena – new but not box-fresh, still with more than a little hint of being under construction.
Both sets of fans jeered and taunted each other, though some of the rancour and bitterness of the derby seems tempered down on the Mediterranean. The stadium was briefly in unison for the national anthem, then the match kicked off.
Galatasaray started brightly. Lukas Podolski was repeatedly finding the ball in space across the front line, blasting a glorious chance over the bar from point blank range, and twice stinging Volkan Demirel's hands with long-range shots that were parried away.
A goal felt inevitable. Galatasaray drilled a hard corner into the box, it was flicked on and Podolski was at the far post, with their easiest of finishes, delicately nodding the ball in, sparking Galatasaray delirium and an eruption of flares. The stands turned grey, the players became rough shapes glimpsed through smoke.
Fenerbahce sought an equaliser in the fog. The blood was up. Scuffles broke out among the players, the fans threw coins, plastic bottles, and flares at the rival team, and at the linesman, who studiously ignored it all. The game stopped every few seconds for a foul, triggering a collective howl.
Galatasaray went into half time 1-0 up. When they emerged for the second half it seemed like they have decided not to play football anymore, backing themselves to cling on to victory in some kind of suffocating death grip. Fenerbahçe pinned Galatasaray back. Galatasaray's fans chewed their fingers. The Fenerbahçe fans made all the noise, they sensed a goal. They hit the bar with a header. Both keepers make smart saves.
But with 10 minutes to go it felt like Fenerbahce had exhausted themselves against Galatasaray's tactics, and the Galatasaray fans increasingly found their voices. The final whistle went and they celebrated more in relief than joy.
'The empty plinth at Trabzonspor's museum' (December 2015 - Patrick Keddie)
Trabzonspor became the first Anatolian side to win the national league, becoming champions six times between 1976 and 1984 in what became known as the Trabzonspor Efsanesi – 'The Legend of Trabzonspor'.
Subsequent years were leaner for the club, but Trabzonspor won the Turkish Cup several times and frequently challenged for the championship.
An empty white plinth stands in front of the six league championship trophies on display in Trabzonspor's museum, waiting for the trophy they believe is rightfully theirs.
Fenerbahce pipped Trabzonspor to the 2010/11 title on the last day of the season. A few weeks later,